Navigation
9 Users online ::
9 Guests and 0 Registered
ID #1128
I want to separate my blog entries by topic. How can I organize my blog entries by category?
Categorizing your blog entries is very easy in our Blog. From your Dashboard follow these steps:
1. Select Website Settings on your Dashboard
2. Select the Blog Settings Tab
3. Under Add New Category give your category a name
4. Select Add This
5. Repeat these steps until all categories have been created
6. Publish Website
Your category will now act as a "subpage" of your blog in which you can add new entries.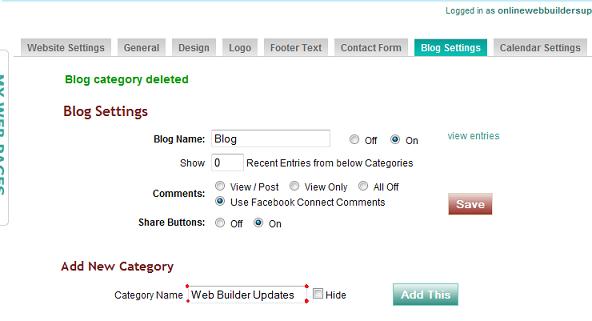 Tags: Blog
Related entries:
1939/3%Last update: 2011-07-01 21:17
Author: WebBuilder Support
Revision: 1.5

You cannot comment on this entry